The Panza Harness with Deployable Emergency Dog Rescue Sling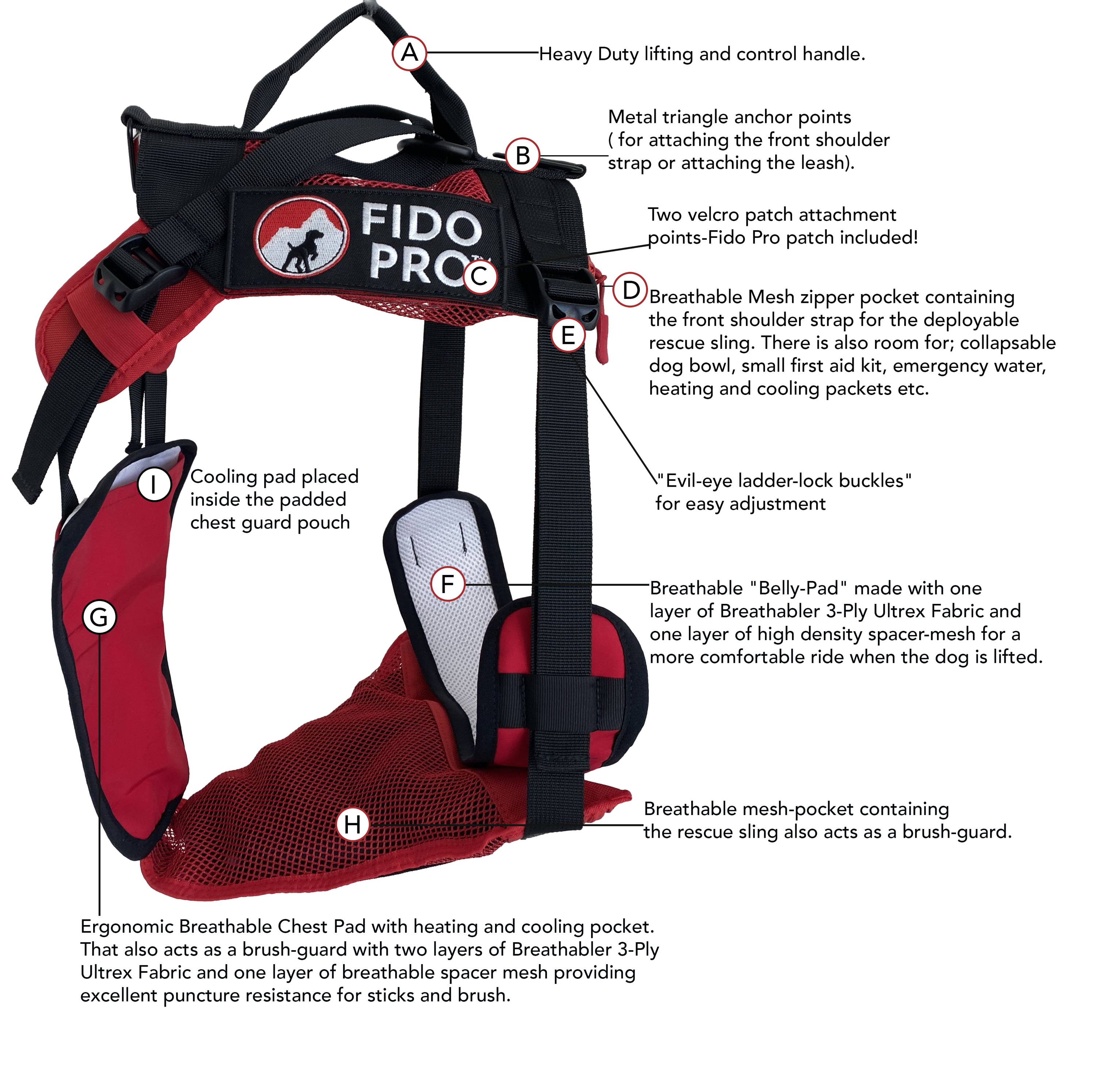 PANZA HARNESS TECHNICAL INFORMATION
PANZA HARNESS PACKAGE DETAILS
Comes with one Panza Harness and one Remi Runner Leash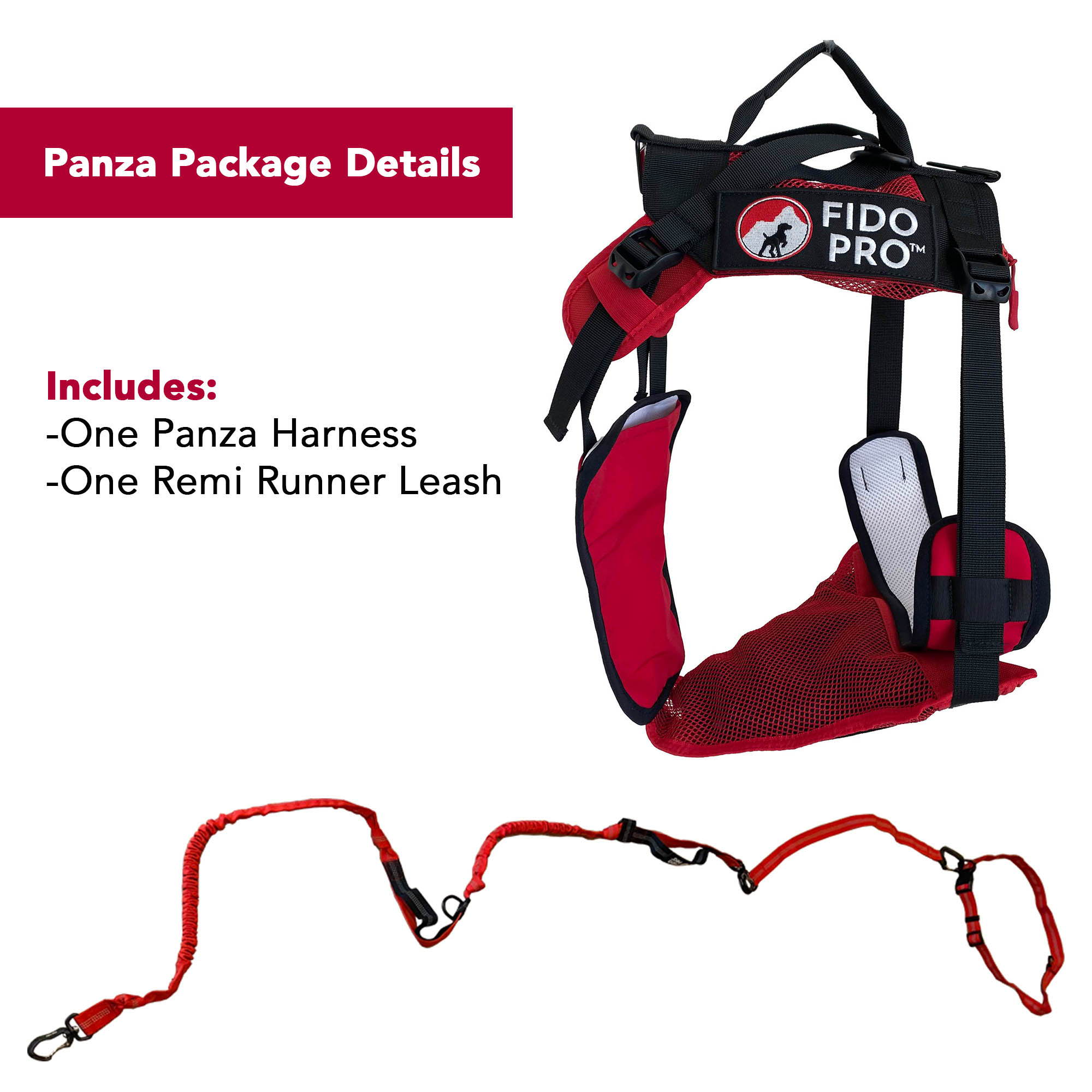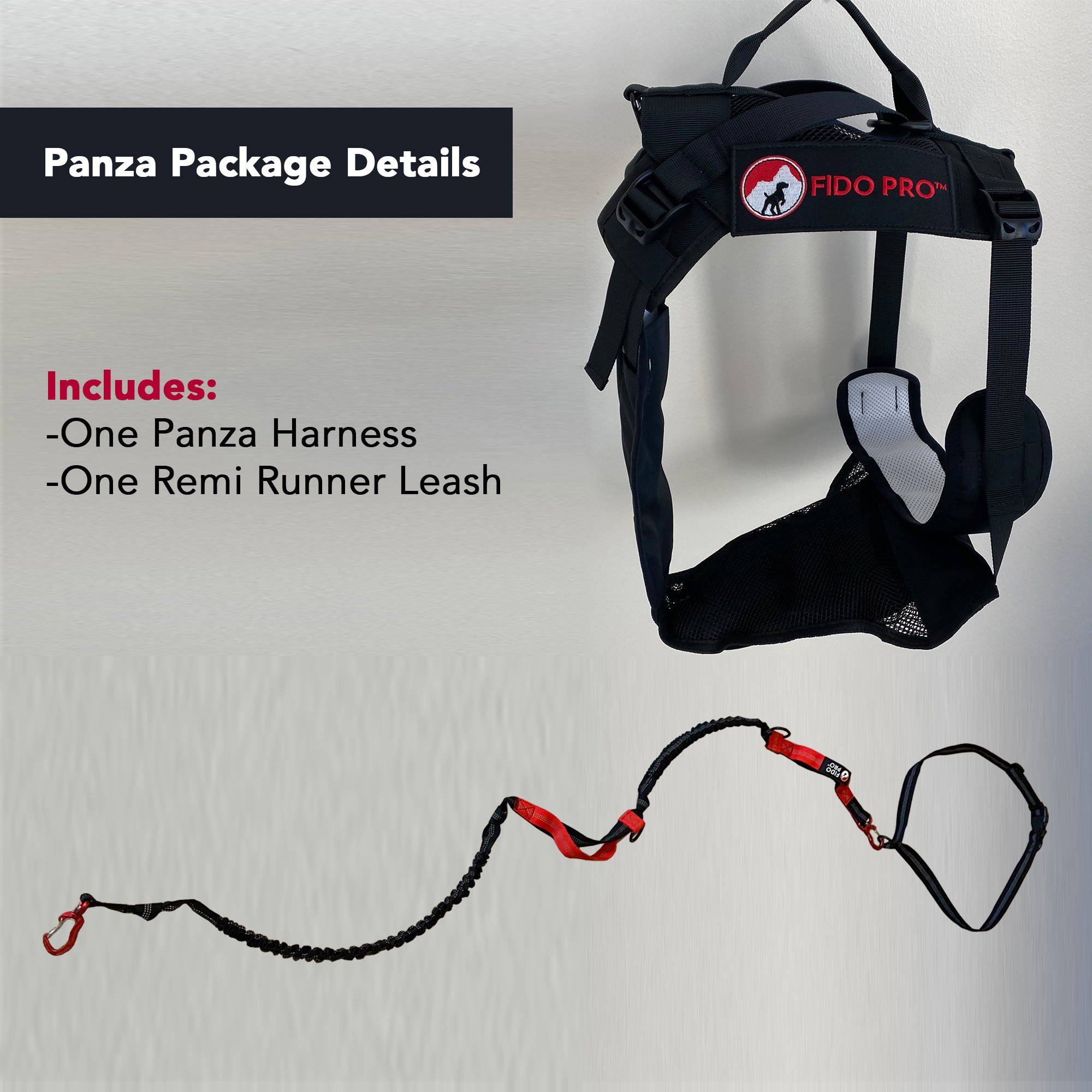 Shipping
Orders typically ship within 1-2 business days. Customers have the following shipping options:
FedEx SurePost- DUE TO COVID DELAYS PLEASE EXPECT 7-12 DAYS TO RECEIVE YOUR PACKAGE.

FedEx One Rate 2nd day air - estimated 2 to 3 Days...DUE TO COVID DELAYS YOUR PACKAGE MIGHT TAKE LONGER THAN 3 DAYS TO DELIVER.
Shipping option is chosen at checkout.
Attention Canadian Customers: There might be additional customs / duties fees due upon pickup in your country of residence. If unclear as to your country's rules please check prior to ordering.
Return Policy
If for any reason you are not 100% satisfied with your Fido Pro purchase or would like to exchange for a different size please see below. RETURNS WILL BE EXAMINED AND MUST BE IN RE-SELLABLE CONDITION.
Returns must be shipped back to Fido Pro no later than 30 days after purchase. The customer is required to pay shipping fees for returns. Include your order number and a note stating return for refund or return for exchange, along with the size you would like. If exchanging a M or L for an XL, please provide the order number verifying you paid the $15 up charge.
Exchanges
If you ordered the wrong size, we're happy to exchange it for a new size, customer pays to ship to us and Fido Pro pays to ship back to you using USPS First Class Mail.
If you are exchanging a size medium or large for an XL, there is an additional $15 charge to cover the increased cost of the XL. You can make this payment via our online store. Once this is completed and the original purchase returned in new condition, we will then ship the XL size.
U.S. AND CANADA CUSTOMERS ONLY SHIP RETURNS TO:
FIDO PRO RETURNS
600 WEST BAYAUD AVE.
DENVER CO 80223
EUROPEAN CUSTOMERS
Orders placed within Europe ship via DHL from Milan Italy. Orders ship within 1-2 business days. DUE TO COVID YOUR PACKAGE MIGHT BE DELAYED.
NON-EUROPEAN UNION COUNTRIES You might owe additional VAT and duties upon delivery of your package. Please make sure you know your countries rules pertaining to VAT and duties.
EUROPE CUSTOMERS EXCHANGES AND RETURNS. Customer is required to pay shipping fees for returns or exchanges. For exchanges, Fido Pro will pay shipping fees to ship the new size back to the customer. Please contact European customer service for return shipping details or any other questions regarding your order at: Fidoeuro@fidoprotection.com
EUROPE CUSTOMER SERVICE EMAIL: fidoeuro@fidoprotection.com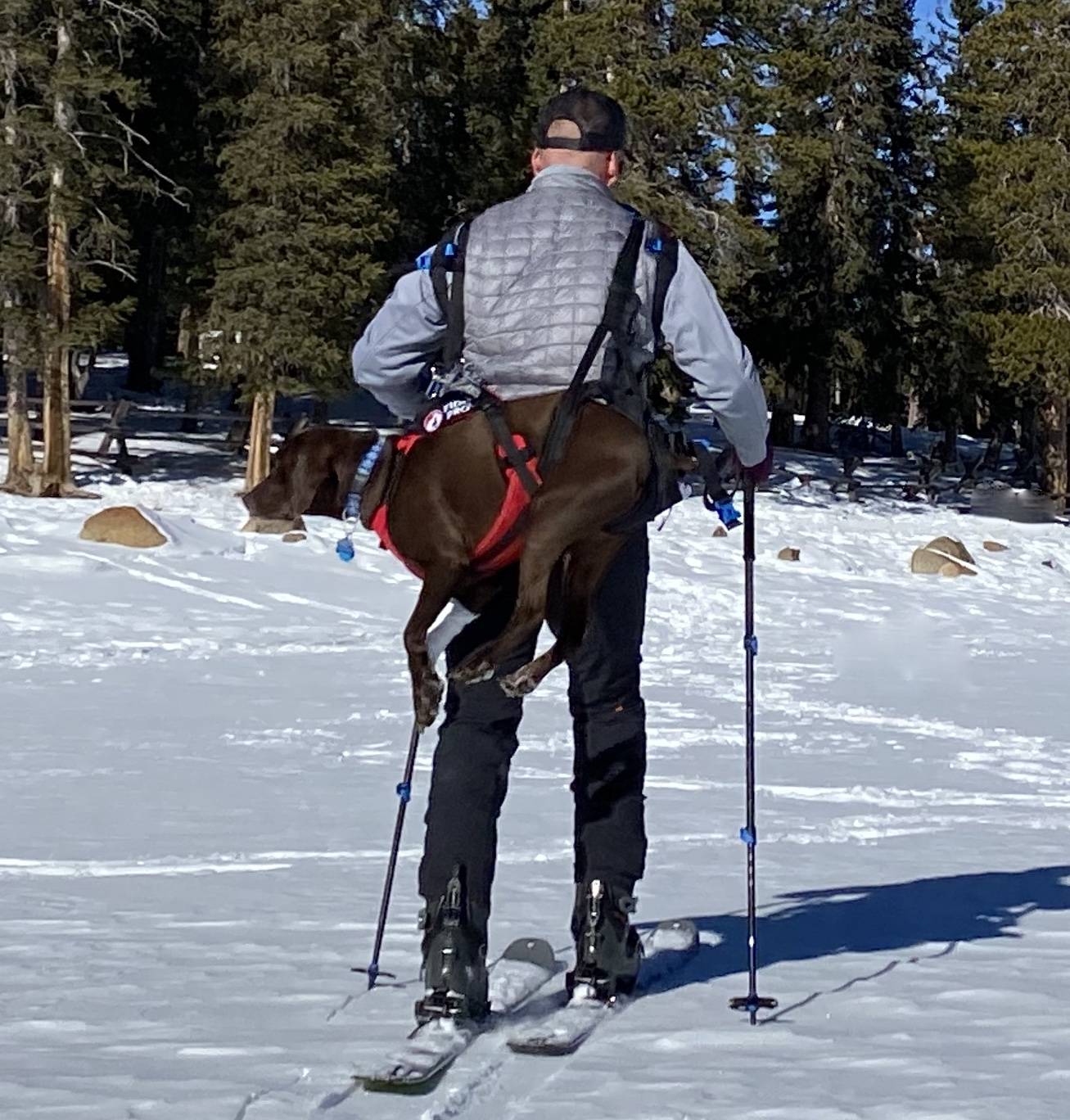 Dog injury or illness on the trail is actually pretty common
Paw abrasion from rocky ground, being impaled by a stick, wild animal encounter, fight with another dog, snake bite, upset stomach… anything can happen.
And, this situation too often results in the dog parent having to do the worst imaginable... leave the dog behind and go for help.
That is why Fido Pro designs products to help protect your dog as well as be able to self-rescue your dog should it become sick or injured while in the backcountry. The Panza harness with deployable rescue-sling is a self-contained technical harness perfect for your outdoor adventures. Designed by backcountry enthusiasts who love to take their dogs on adventures
Frequently Asked Questions
You might be wondering...
Will the harness fit my dog?
The Panza Harness fits medium sized to Large dogs. Please refer to the sizing chart on this page.
Is the deployable rescue sling easy to use?
Yes, it is but only after viewing the "how to use" video and practicing a few times.
Will you be making one for extra-large dogs?
Depending on demand we anticipate we will.
Does it come in different colors?
Yes, red and black and we plan on adding a camo or cayote color soon.
We manufacture the Panza Harness in the Colorado USA using imported parts and materials.
-Is the deployable rescue-sling comfortable for the dog?
The dog rides comfortably but we suggest you stop from time to time to check on them.
Is it comfortable for the person?
We try to make the rescue-sling as comfortable as we can. Keeping in mind it needs to be very lightweight in order to be stowed. We test the deployable rescue sling carrying dogs for hours at a time. You might need occasional breaks to rest and to relive pressure on your shoulders.
Will I be able to lift me dog?
That is an answer only you can answer. As people's level of fitness and strength vary greatly.
Is it available in Europe or Australia?
At this time it is not but will be by May of 2021.